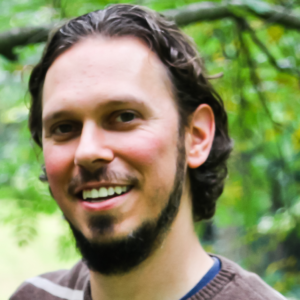 Dymaptic is excited to welcome Richard Zwaap as Director of Software Engineering. Richard is an accomplished Software Engineer with a penchant for birthing new software products, swiftly implementing creative and effective solutions, and rapidly acquiring expertise. He has worked in the industry for over 15 years, and his work has spanned development of applications, APIs, UI components, tools, scripts, and extensions with web, desktop, and mobile technologies.
Before joining dymaptic, he spent 11 years at Esri, where he was instrumental in envisioning, implementing, launching, and supporting new products, including the management of product teams and development cycles. Throughout his career, he has been hands-on with API, app, and UI design and engineering as well as testing, doc-writing, code sample development, and supporting customers. Put simply, if it intersects the world of software development, Richard has probably done it.
"I met Richard at Esri when we were both working as Software Engineers on the .NET Runtime Team. His level of expertise and ability to quickly solve complex technical challenges was an inspiration for the entire team. I am thrilled Richard has agreed to join dymaptic. He is going to be invaluable in shaping dymaptic's future."
As the leader of dymaptic's consulting efforts, he is responsible for all aspects of custom development, including software engineering, design, documentation, testing, and product release.
You can connect directly with Richard and the dymaptic team at info@dymaptic.com.